Counted amongst one of the fastest growing mobile phone brand makers in the country which was inactive for a quite while from the gadgets arena in India has now finally dipped it's new entrant under it's brand new UltraSmart series of Smartphones named, "Magicon UltraSmart Q7". Magicon has always aimed to facilitate it's customers with a wide range of products which covers the boundary from the basic entry level colour phones with FM to High-end Touch screen, Triple SIM (GSM- CDMA-GSM) phone & QWERTY keypad phones with features like TRACK PAD and WIFI connectivity and more.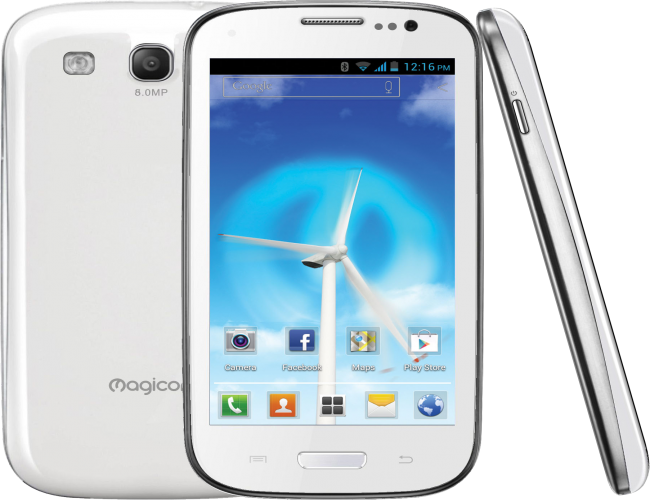 Magicon claims it to be the best product with high specifications and features dubbed in any smartphone according to it's price range worldwide. Shifting the concentration towards it's specifications, in terms of frame up Magicon UltraSmart Q7 flaunts 11.76 cm (4.63″) FWVGA Capacitive Touch Screen display with 480 x 854 pixels resolution. Company claims that it has the most sensitive capacitive screen which allows rapid swipe movements and flourish the display with crystal clear picture. Dealing with it's Platform dependency, Magicon UltraSmart Q7 runs on Android 4.0 Ice Cream Sandwich Operating System powered with a Dual Core Processor clocked at 1.2 GHz. This Device also incorporates the same technology which is now fitted in most of the devices as a standard feature, Dual Sim with Dual Standby technology. In terms of Storage Specifications, Magicon UltraSmart Q7 equipped with 512MB RAM and a 4GB internal memory which is expandable up to 32GB using microSD card slot.
According to Mr. Jitendra Rahi, Executive Director, CONPLEX International, the business conglomerate headquartered at Hong Kong that owns the Magicon brand, "Owing to the economies of scale and smart sourcing, we have been able to make the smart phones available at affordable prices sans any compromise on features or quality. Our philosophy is to spread the benefit of technology to masses."
Briefing it's Connectivity Support, it supports 3G, EDGE, GPRS, Bluetooth and Wi-Fi connectivity, WiFi hotspot (by Wi-Fi hotspot capability the phone gets converted into a Wi-Fi router enabling other devices in the range to connect to the Internet) G-sensor, Proximity Sensor, GPS (Global Positioning System). The phone is available in two exciting colours – white and deep metallic blue. Enumerating the device Photography specifications, a primary camera rated at 8 MEGAPIXEL with autofocus and flash technology and a secondary camera rated at VGA committing an amazing image capturing and video conferencing experience. Some of the pre-loaded applications of Magicon UltraSmart Q7 includes 'myplex now' and NewsHunt.
To make the life going for this handset, it has been equipped with 1800 mAh of battery with 6-7 hours of talktime. The Price of Magicon UltraSmart Q7 is Rs 8,999 and it will be available for sale on all the leading online retailers across the country.
Mr. Pankaj Anand, CEO, Magicon Impex said, "Compared to all other touch screen phones available in the market today, our phone offer the most superior user experience. The all new Q7 will be available across the retail space through dedicated Magicon smart phone channel."
Quick View of it's Specifications:
4.63″ FWVGA Capacitive Touch Screen display
480 x 854 pixels resolution
Android 4.0 Ice Cream Sandwich Operating System
Dual Core processor clocked at 1.2 GHz
512 MB RAM, 4GB Internal memory, 32 GB expandable
8 MEGAPIXEL primary camera, VGA front facing camera
To make the package content a bit more exciting, it comes bundled with attractive data and voice plans from Aircel – 1 GB of data, 250 minutes of talk time and 250 SMS messages for 3 months.
For more information, Stay tuned.