DataWind in collaboration with IIT Bombay has launched it's most awaited tablet Aakash2 in the Indian market on 11-Nov-2012. Mr.Pranab Mukherjee (President of India) took opportunity by unveiling it at an event in New Delhi.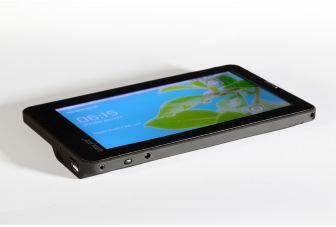 Aakash2 sports a descent display of 7-inch, multi-touch, 4-point capacitive display with 800 x 480 pixel resolution. Aakash2 is designated to work on Android 4.0 Ice Cream Sandwich Operating System which is powered with Cortex A8 1 GHz processor. It also feature 4GB internal memory which can be expanded upto 32 GB using micro SD support, it also has USB Hub(4port). In terms of connectivity wise it supports WiFi b/g/n.
Aakash2 is comes with some peachy pre-installed applications such as 3D-modelling, C++ programming, remote and collaborative training applications, robotic control and live assessment tools and to make it work faster it has 512 MB RAM, which are specifically oriented for engineering students. Shadowing to it's battery, Aakash 2 offers a standard 3,000 mAh battery. As per the speculations, there are reports that the government has shortlisted around 244 engineering colleges that will work as remote centers for "Aakash in Education" program in India. A which will be coordinated by IIT-Mumbai under the National Mission on Education through ICT (NME-ICT). This programme will cover almost all the engineering colleges under this course.
Aakash 2 will be made available to the student at a affordable price of Rs 1,130, however DataWind are charging around 2,263 per tablet to the Indian government. You can also buy it from their website , it is available for Rs. 4999 under name Ubislate 7Ci