Google has launched it's latest Chromebook with Acer "Acer C7 Chromebook" in the market. It was a month before when Google launched the Samsung Chromebook which is placed at a much higher rate as compare to this new Acer C7 Chromebook.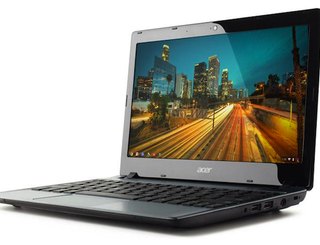 Google with the launch of it's new Chromebook in the market, aimed those users who unlike the licensing agreement, viruses etc. This new Acer C7 Chromebook will have no licensing agreement and most probably no viruses. The Acer C7 Chromebook sports a descent display of 11.6 inch which looks quite astonishing and as far storage is concern it has 320 Gb of hard drive. The Acer C7 Chromebook is powered with Intel processor with 2GB of RAM, it also has USB 3 and HDMI ports. In terms of storage Google has offered a huge 100GB of Google Drive cloud storage. Acer C7 Chromebook has used a solid-state flash memory .The Acer C7 Chromebook features in light weight segment and it weights at approx 1kg. As we have discussed before the cut down in the price rate, this all new Acer C7 Chromebook is priced at a much lower rate than the previous Samsung Chromebook, it will cost around $199 which is $50 less that the Samsung Chromebook.
The Acer C7 Chromebook has spinning hard disk with a larger capacity but it weighs quite heavier as compare to Samsung Chromebook. The Samsung Chromebook tooks around 10 sec to start up whereas the Acer C7 Chromebook start-up time is yet not enclosed. This New Acer C7 Chromebook will rolled out in the market from 14 November at the Google Play store, Amazon and Best Buy in the US and some of the selected retailers in the UK.