Intorducing a new element in the arena of ultraslim keyboards to fascinate especially the ipad, and smart tab, pc's owners regarding the same consensus which they have to face while typing large documents over to these gadgets. Rapoo E6300 has been launched as a new successor under it's prodigious Blade series of computer components.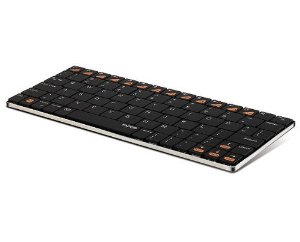 It has been reported by most of the tablets,touch pc's and some touch-pad owners the problem which the face while working for hours onto it. Common problem was that working on these gadgets is somehow easy in the inbuild keyboard just for few minutes but while posting a large documents or doing hours of works onto it creates uncomfortable situation. To overcome this problem, the company has come up with this all-new Rapoo E6300 UltraSlim keyboard which is elegantly designed with 15 iPad hotkeys. Eying onto it's Connectivity, it supports a Bluetooth 3.0 wireless range up to 10 metres, which makes the user to enjoy a joyful working experience. Rapoo says it is also compatible with Mac, Smartphone, tablet and PCs which adds a plus advantage regarding it's sale profit as we all know Indian market is a bunch of low cost, average gadgets. Enumerating it's Specifications, Rapoo E6300 Keyboard has 80 standard keys and 15 iPad hotkeys to surf Homepage, Search, Picture frame mode, Back, Play/Pause, Forward, Lock/Unlock iPad, Delete one line, Restore and Show/Hide keyboard. To claim it as UltraSlim, It measures 8″ long X 3.1″ wide X about 0.2″ tall at the front and 0.36″ tall at the back overall 5.6mm in thickness apart from these other measurements. The body is designed with scissor key structure and stainless steel plate that best virtue it's UltraSlim and stylish feature. In terms of Operating System support, Rapoo E6300 supports Windows XP, Windows Vista and Windows 7.
Mr Sunil Srivastava, India Sales & Marketing Manager at RAPOO India said, "We are launching this keyboard especially for iPad users like traveler, lecturer or mobile users with the iPad, iPhone or Bluetooth Devices to write long e-mails or to type long documents. E6300 Bluetooth Keyboard is an excellent option which customers can opt for."
The keyboard comes with a USB adapter to plug in for charging, and is claimed to have high performance rechargeable lithium batteries. Two hours of charging are needed for battery back-up of up to a month. The RAPOO E6300 wireless keyboard is priced at Rs 4,049 and carries a 2-year replacement warranty.
Quick View of it's Specifications:
Bluetooth 3.0 wireless range up to 10 metres
15 iPad Hotkeys for easy access
Two hours of charging to work up to one month
Compatible with Mac, Smartphone, tablet, laptop and PC
Let's see how ipad, tablets owners repond to this UltraSlim Keyboard. Stay tuned for more technology updates.