China-based manufacturer, " ALL Winner " that designs multi-core processors for system on a chip (SoC) and power management integrated circuits has launched its latest mobile application processor called the, "A 20" in the Indian market. This latest chip will now shipped inside customers devices very soon.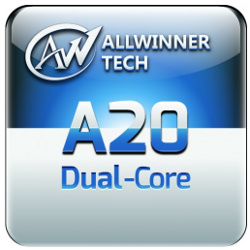 This company is quite well-known among all tech geeks and those who care about the hardware their mobile devices are running, as almost all the devices manufactured by the different company's under the gadgets segment worldwide powered their devices mostly using this company processors. From the Sources, we came to know that it will be the world first Dual-Core ARM Cortex-A7 SoC. In terms of it's Specifications, this device is capable of supporting 2160p video playback and 1080p video playback at 30 frames per second also it supports 720p video capture at 60 frame per second.
A20 SoC features a Dual Core Cortex-A7 CPU coupled with a Dual Core Mali-400MP2 GPU which would make the graphics unit more powerful. As per the reports, SoC supports Android 4.2.2 and 4.1.1 Operating System and some of the company officials say that the architecture promises five times the energy efficiency and 50% greater performance than previous generation Cortex-A8 architecture SoCs.
Specifying it's working capabilities, the A20 will works on an integrated HDMI transmitter, LVDS interface, and integrated TV decoder.
Very soon we will be seeing this chip equipped in the upcoming Android devices and mobile gadgets.
Stay tuned for more technology updates.