Multinational Conglomerate from South Korea,"Samsung Electronics" has unveiled it's latest entrant at the CES 2013 which will be equipped with a Wow remedy to assist the Smart TV experience with more power and fun. Samsung has introduced this Smart Evolution Kit to assist his top end smart TV models of 2012.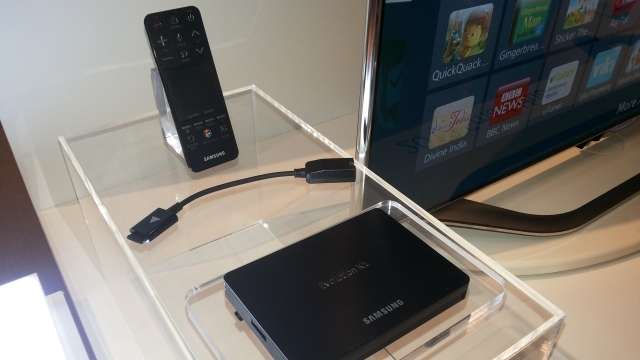 Samsung has already introduced the concept of Smart Evolution Kit first time at the Consumer Electronics Show which was held last year. Keeping its promise from last year's CES and finally just a flick away to introduce it's innovative concept in front of the the whole world. This Device enables Samsung 2012 Smart TV to revolutionize into Samsung new 2013 Smart TV. However, attaching it to TV is not a big issue as it can be easily affixed into back of Samsung Smart TV simply and will start delivering the joy of new enhancement and is dubbed with all latest features that Samsung has incorporated in it's 2013 Smart TV series. Some of the spokesperson conveyed tp us," Company has also cleaned up the UI, and apart from UI it has also introduces five separate screens with fluid transitions as opposed in trying to compact everything onto a single home screen.
Speaking towards the hardware specifications, Smart Box Evolution kit will be powered with a Quad Core Samsung Processor clocked at 1.2 Ghz with 4GB of RAM (this would really a nail bitting element to attract Smart TV lovers). Some of the other features include voice control, including natural language processing and many more.
"Evolution Kit has opened a new era of Smart TV and completed a true Smart TV with its innovative concept, which fits in the rapidly changing IT trends", said Sunny Lee, executive vice president of Visual Display Sales & Marketing Team, Samsung Electronics. "Consumers can enjoy the latest features and services every year without having to purchase a brand new set. Samsung Smart TV users will enjoy Timeless TV that transcends time with Evolution Kit."
However, the information regarding it's price will be soon available.
Stay connected for more updates.