Few weeks earlier, eaves dropping a consternation news by the biggest search giant worldwide, "Google" in the tech world mentioning a complete relinquishment of it's news arm known to be, " Google Reader" which encounters a huge disappointment for most of the tech lovers has now announces a new Note Making App named, "Google Keep" officially.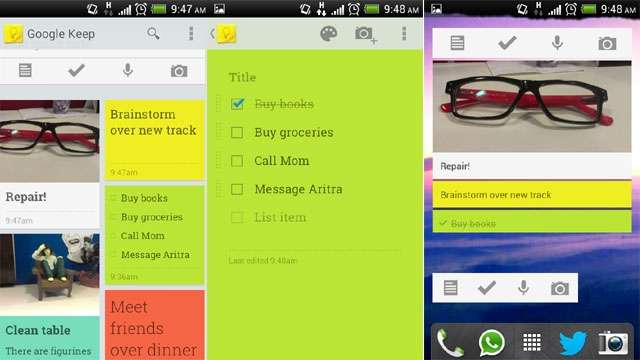 Google Keep, a new arm in the body is launched with some cool and interesting features. Starting with its first appearance, by default it has been set like a Tumblr's dashboard without the sidebar. It has been meant for storing notes very quickly. While running the applications a single column running down the middle of a browser page will be shown with a box placed above it in which you can easily add text notes, upload pictures (including GIFs, which play inline), or quickly make lists. To Highlights your notes, there is a option in which you can choose to color-code your notes. Now here arises a question, where will all the data get stored? The answer to this query is- all of your notes will be saved in your Google Drive, synced with all your devices so you can access it from wherever you are. Google Keep also has widgets available for homescreens for ease of access.
"Every day we all see, hear or think of things we need to remember. Usually we grab a pad of sticky-notes, scribble a reminder and put it on the desk, the fridge or the relevant page of a magazine," wrote Google in a blog announcing the new service. "Unfortunately, if you're like me you probably often discover that the desk, fridge or magazine wasn't such a clever place to leave the note after all…it's rarely where you need it when you need it. To solve this problem we've created Google Keep."

Briefing towards it's platform availability,for mobiles, "Google keep" will run specially on those devices which sails on Android 4.2 Jelly Bean Operating System or higher versions if available. To make it a bit more safe, Google has also marked it with a locks screen.
This would not be Google's first foray into note taking. In 2009, the company announced that it would stop active development on Google Notebook. By July 2012, the service shut down and all Notebook data was transferred to Google Docs. Let's see how Google Keep lasts it's virtue for a longer time.
Stay tuned for more technology updates.