SAMSUNG, one of the world's leading giant in IT manufacturer's and telecommunications industry has launched it's five new products in the Indian market. Samsung, with the launch of it's new innovatory products has made them available for purchase at all the leading retailers across the country.

The List of the new Innovatory launches is incumbered with a new variant of the Series 9 Ultrabook, two extremes editions in Series 5 Ultrabook (Series 5 Ultra Touch and Series 5 535) and the most glistering product's for the show were the Ativ Smart PC and Ativ Smart PC Pro, the two Windows 8 roster's from Samsung.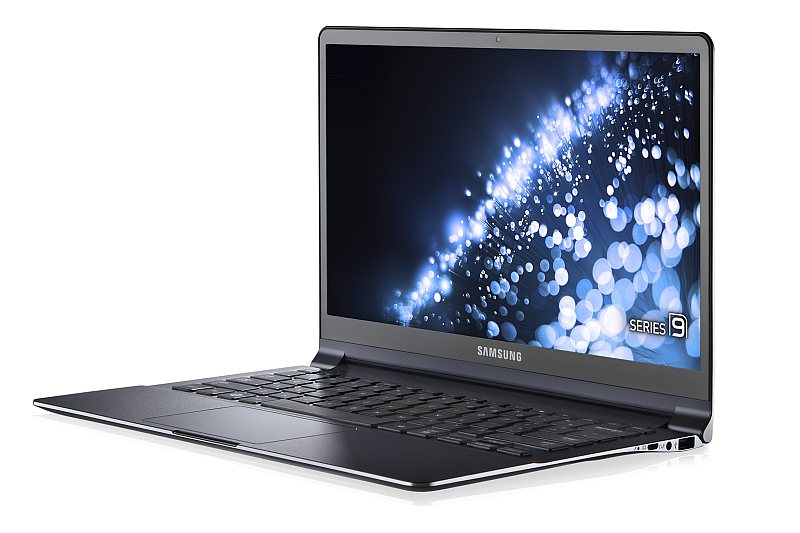 The New Samsung Series 9 Ultrabook will sports a descent 15 inch display (matte). It is powered with 3rd Generation Intel Core i7 processor along with it also offers 4GB of RAM. Samsung Series 9 Ultrabook is claimed to be the most thinnest in the world. The screen bounce up with extreme brightness upto 400 nits. Samsung Series 9 comes with preloaded Windows8/ Windows 8 Pro. The Price of the Samsung Series 9 Ultrabook is Rs 1,07,990.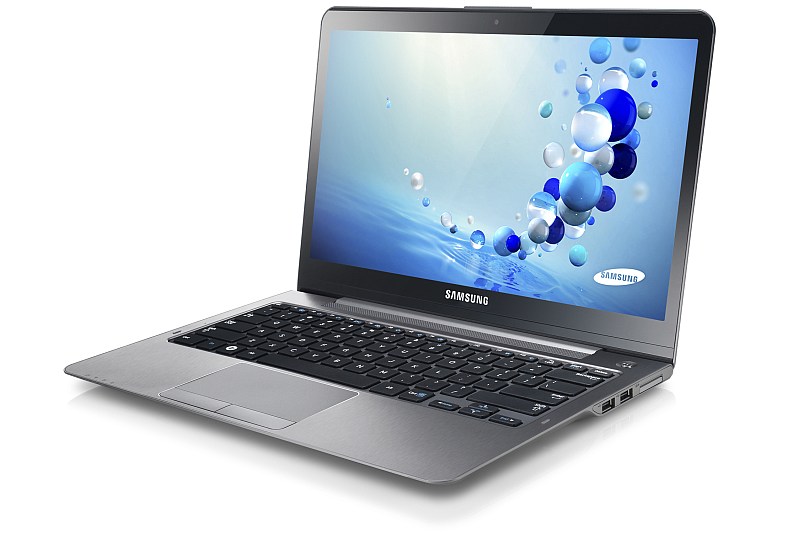 Specifying towards the next product, it's a new addition in Series 5 Ultra Touch Ultrabook. It feature a 13.3 inch display with HD SuperBright screen which claims to supports 10-finger multi-touch. Samsung Series-5 Ultrabook is powered up with Intel's newest 3d generation processors and incorporated with 12GB of RAM along with 500GB of storage with 24GB ExpressCache. Some of the other feautre of Samsung Series 5, it is loaded with a number of ports like one USB 3.0 port, two USB 2.0 ports, a full-size HDMI port. It also offers 1.3 megapixel front-facing camera which serve the user to have Skype calls. In terms of body, Samsung Series 5 body is built with an aluminium and fiberglass construction. The price of the Samsung Series 5 Ultrabook is Rs, 64,990.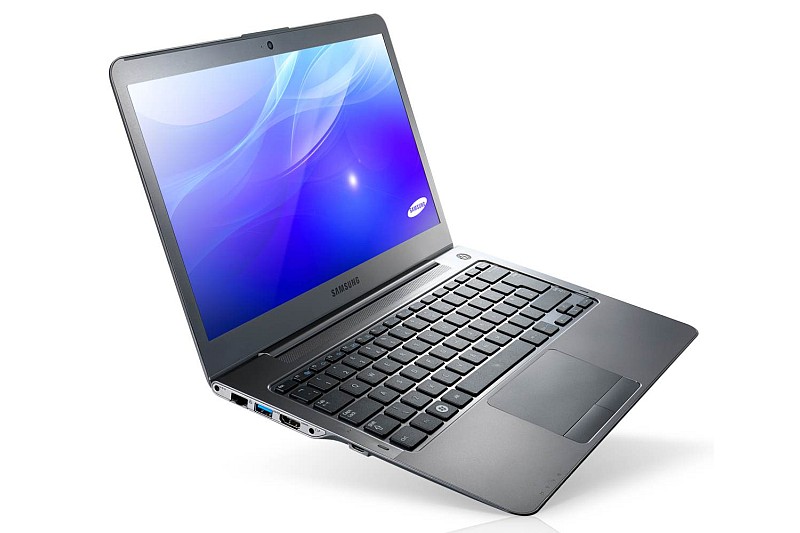 Next line up in Samsung Portfolio, features Samsung Series 5 535 notebook which is powered up with AMD's quad core A8-4555M processor. It also incumbered with 6GB of RAM and an AMD Radeon HD 7600G+7550G dual graphics. The Samsung 5 535 notebook does not has a TouchScreen. The price of the Samsung Series 5 535 is priced Rs. 43,990.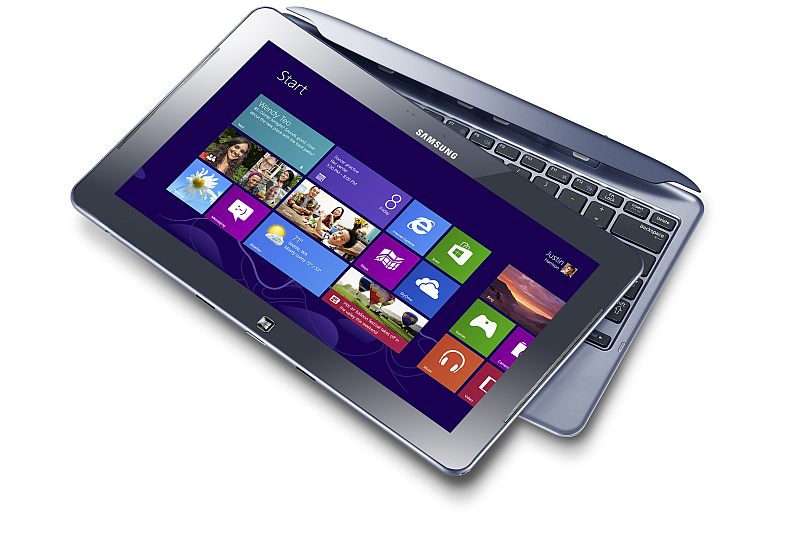 Samsung introuduces it's last offer featured with two Windows 8 Pro tablets in the Indian market. Samsung Ativ Smart Pc comes with a huge 11.6 inch screen with a lower resolution 1366×768 pixels. Samsung Ativ Smart Pc is powered with Intel's Clover Trail Atom processor, it also offers 2GB of RAM and 128GB SSD to boot. The price of the Samsung Ativ Smart Pc is Rs,53,990. The Ativ Smart PC Pro is boasts up with Intel i5 processor, 4GB of RAM with a 256GB SSD to boot. Smart Pc Pro feature 1920×1020 pixels screen resolution. The Price of the Samsung Pc Pro is Rs, 75,490.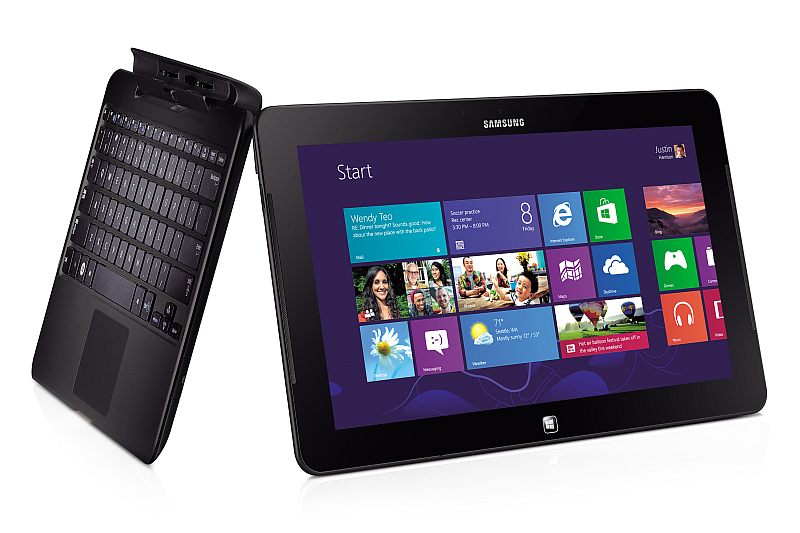 List of same feauture included in both the tablets, feature microSD card slots, USB ports (3.0 on the Pro and 2.0 on the non-Pro), along with mHDMI port. Both the tablets, comes with a keyboard dock that adds another two USB ports to the setup.