Simmtronics, one of the major player in electronics industry has launched it's most affordable tablet as Xpad X-720. Simmtronics officially announced its tablets for the Middle East market in Dubai and claimed it the world's most affordable tablet, it's also one of the biggest manufacturer producing memory modules, motherboard, tablet, LED.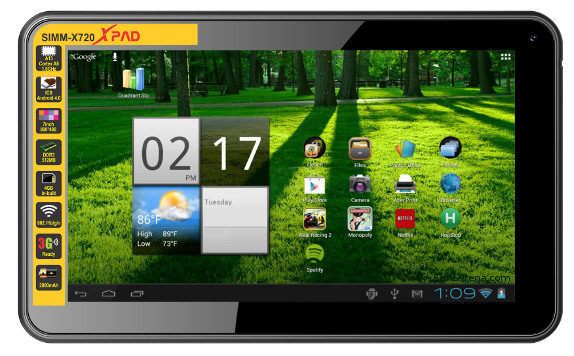 Simmtronics X-pad X-720 will sports 7-inch capacitive muli-touch display with 800 x 480 pixels resolutions. With such huge display it seems that tablet manufacturers are in hurry unveiling budget friendly devices aimed at the youth and students. With more youth and students want to get connected while on the move, the tech firms have given more effort to develop handheld equipments at affordable price. This device will run on Android 4.0 Ice Cream Sandwich Operating System powered with 1 GHz Allwinner A13 ARM Cortex A8 processor with Mali 400 GPU which is quite interesting to see at such affordable price. Highlighting it's memory requirements, this device offers 4 GB of Internal memory with 512MB DDR3 RAM, it also supports microSD card slot which can be expanded upto 32GB. Dealing towards it's Image Optics, this device offers 0.3 MEGAPIXEL of front-facing camera whereas it lacks primary camera. In terms of Multimedia, this device packs up with huge Audio/Video formats. It supports 3GP, AVI, FLV, MOV, MPG, MKV, WMV, MP4, RMVB, MPEG2-TS in video formats and in Audio Formats it supports: MP3, OGG, WMA, FLAC, M4A, MP2, AAC other than this it also dubbed with 3.5mm audio jack. In terms of Connectivity, this device supports 3G via USB dongle, WiFi 802.11 b/g/n, USB 2.0 OTG, micro USB port, DC Jack.
The Managing Director at Simmtronics, Indrajit Sabharwal reported that in their strategy of reaching out to the audiences with innovative products, they have announced the XPAD X720 that features Android 4.0, touch screen and other features. He added that the tablet is equipped with amazing apps to grab the attention of youth and offer best computing and gaming experience to them. The tablet further has the accelerator and gravity sensors that support the Android Gravity games as well as other applications.
The tablet further has the accelerator and gravity sensors that support the Android Gravity games as well as other applications. The Simmtronics Xpad X-720 is now accessible for Indian customers priced at Rs. 4, 600. It is not available on the leading stores and e-commerce websites but it will be available very soon. This table is already doing well in overseas market and it is very much possible that it can give a good competition to current market player in term s of entry level budget tablets under RS. 5000 price range.