ViewSonic, US based firm and one of the leading manufacturer and service provider in Visual Technology has launched a new product as,"ViewSonic VSD220 Smart Display" in the Indian market. ViewSonic manufacturer's CRT monitors,liquid crystal display, projectors, plasma display and many more electronic peripherals.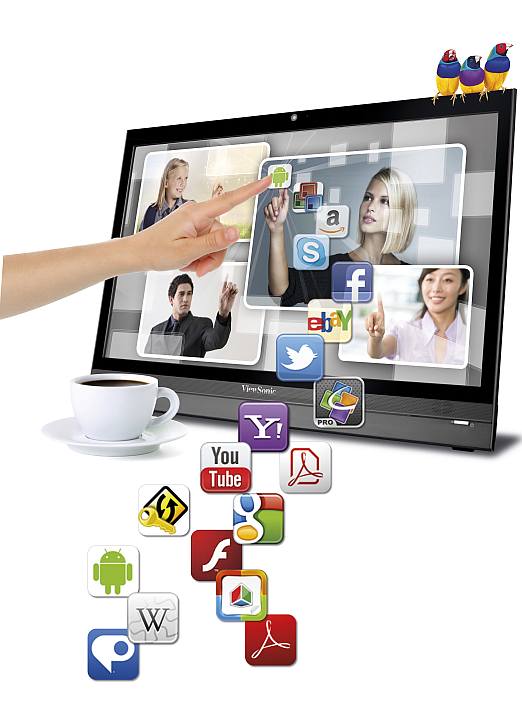 ViewSonic VSD220 feature 22-inch touch display with 1920×1080 full-HD resolution monitor, with full-HD resolution it allows the end user to take the benefit of tablet-like browsing on a 22-inch display. ViewSonic VSD220 runs on Android 4.0 Ice Cream Sandwich operating system, and is powered with a dual-core, ARM-based OMAP 4 processor from Texas Instruments (TI). Dealing with Connectivity, ViewSonic VSD220 supports WiFi, Bluetooth and RJ45 Ethernet. Some of the other connectivity features, it include a micro HDMI port for plugging in notebook or a tablet and one micro sd card.
On the launch, Mr.Kuldeep Ramaiya, Country Manager of ViewSonic India stated," The VSD220 Smart Display is engineered for today´s cloud connected world. ViewSonic is embracing the post-PC transition that will consist of full range of connected display solutions. For consumers, the VSD220 is perfect for surfing the web, engaging on social networks and enjoying a world of Android apps. For commercial opportunities, the VSD220 serves as a flexible solution that can address the needs of Android compatible vertical market applications such as signage, hospitality, point of information, and kiosk. Whatever the need, our new Smart Displays are the future of connected computing".
Specification in terms of Camera optics, ViewSonic VSD220 offers 1.2 MEGAPIXEL webcam with integrated microphone and integrated SRS Premium Sound Speakers. Dealing with it's storage requirements, ViewSonic VSD220 encumbered with 8Gb of internal memory.
Kean Malani, Business Development Manager stated," We are proud to see the leading capabilities of our OMAP 4 processor come to life on ViewSonic´s new VSD220 Smart Display, OMAP Platform Business Unit, TI. At home, at work and at play, consumers across all levels of the computing market demand full-HD capabilities, rich user interfaces, robust interactivity and other compelling features. With our OMAP 4 processor at its core, the Smart Display delivers all this and more, in a way that revolutionizes how and where people experience the Web".
ViewSonic full-hd monitor will be made available in December at a price of Rs 31,999. The ViewSonic VSD220 packs with 1 year of warranty.