Panasonic Corporations, one of the leading giants in electronics manufacturing from Japan has added a new product in its inventory as," Fz-A1″ tablet and CF-AX2 ultrabook in the Indian market.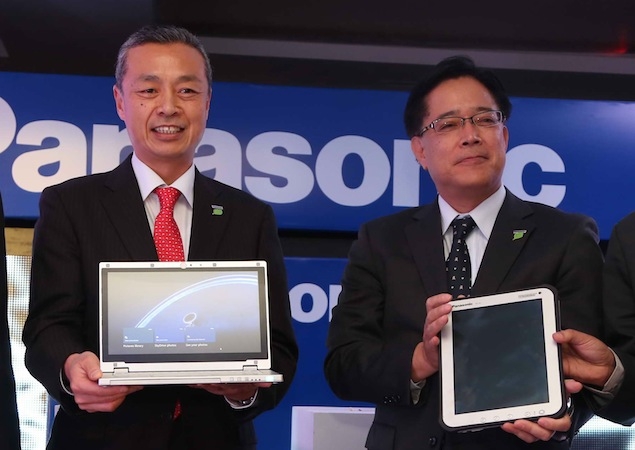 Panasonic India is now aiming to make it's business more voluminous with it's Toughbook range of rugged computing devices. The Toughpad FZ-A1 feature 10.1 inch anti-glare capacitive multi-touch display with digitizer and up to 500cd/m brightness with anti-reflection film, which is ideal for outdoor viewing. It runs on Android 4.0 Operating System powered with dual-core processor with a dedicated security processor core (FIPS 140-2 Level 2 compliant), which make it more supreme to use in secure environment. FZ-A1 is specifically designed to target healthcare, pharmaceutical and construction companies. In terms of Storage, FZ-A1 offer 1GB of RAM, 16GB storage which can be easily expanded upto 32 GB. Dealing with it's Connectivity, FZ-A1 supports Bluetooth, GPS, Wi-Fi, 3G/ LTE connectivity, HDMI and Micro-USB. Enumerating towards it's Camera Optics, it features 5-megapixel rear camera with LED flash and 2-megapixel front camera. Company claims that this Toughbook will deliver 10 hours battery life (user-replaceable battery). As far it's dimensions, it is 120cm in height (MIL-STD 810G compliant) with water/ dust protected (IP65 compliant). The Tablet weigh around 0.97 kg and priced at Rs 75,000 in India.
Hide Harada, Director of IT Products Business Unit, Panasonic Corporation stated,"The concept of "ruggedness" into business mobile PC was originally introduced by Panasonic, which made mobile users realise that Panasonic was seriously trying to adopt customer needs. Due to our effort to listen and understand customer needs, we have today been able to translate these customer conversations in breakthrough design, productivity and portability. India is a huge potential market for us and we hope that our solutions will contribute immensely to the critical applications related to development in such emerging nations".
Gunjan Sachdev, General Manager & National Business Head, Panasonic Toughbook India, said, "As we see an increase in uptake of tablet-form mobile computing devices in Asia, we want to ensure that we apply our market knowledge as well as our deep store of intellectual property, engineering and R&D resources as the leader in the ruggedized mobile computing space, to deliver an Android-powered tablet that is radically different from the largely consumer-based devices on the market today. The Toughpad, with its daylight-readable screen with anti-glare coating and enhanced security features, will remove adoption barriers in the healthcare, construction, aviation and military industries, where there is a strong need for such capabilities."
Second Product which was also unveiled at this occasion was Panasonic CF-AX2 ultrabook, CF-AX2 Ultrabook runs on Windows 8 and powered with Intel Core i5 processor. The device sports a 11.6 inch touchscreen display with 10 contact points blowing a screen resolution of 1366×768 PIXELS. It also comes with 4GB of RAM, 128GB SSD storage, USB 3.0 ports. Dealing in terms of Connectivity, it supports WiFi 802.11n, Bluetooth, mobile connectivity, HDMI, SD card reader and 720p webcam.
In the End Sachdev also added some few words for this Ultrabook,"The Panasonic CF-AX2 sets the new benchmark for business Ultrabooks with its security options, hot swappable batteries, an innovative strengthened 360 degrees flip over hinge and its business-rugged design. Companies in India are realizing the impact a mobile workforce can have on their opportunities in the market and on their business performance. The Panasonic CF-AX2 is designed to exceed the needs of the busy "always-on" mobile executive, increasing productivity and maximizing ROIs."
As per the Speculations, CF-AX2 will be available in the country in February 2013 at a price of Rs 1,30,000.