AMD has now officially launched its newest line of graphics cards, the Polaris Evolved Radeon RX 500 series. The Radeon RX 500 series graphics cards have higher clocks and have all the latest AMD Radeon technologies including optimized DirectX 12 and Vulkan support, FreeSync, ReLive, Chill and HEVC H.265 4K Encode/Decode capabilities.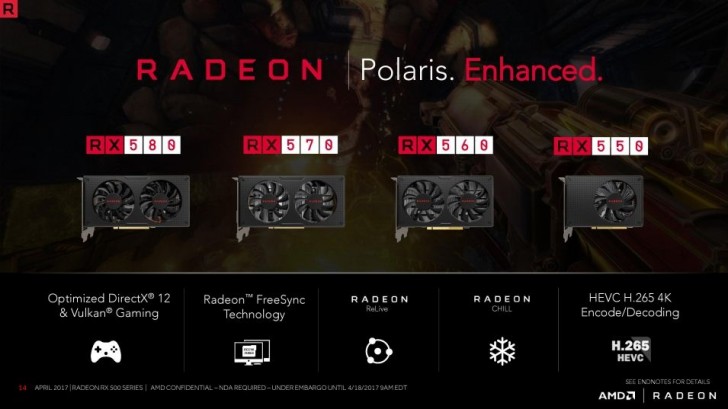 The RX 500 series consists of four cards for now, the RX 580, the RX 570, the RX 560 and the RX 550.
The Radeon RX 580 rocks a 1,256MHz base and 1,366MHz boost clock, as mentioned. Cranking those clocks brings the rated TDP up from 150W to 185W.
The Radeon RX 570 has a 1,168MHz base and 1,244MHz boost clock. While that's a mild increase from the Radeon RX 470's 1,206MHz maximum clock, it's a significant jump in base clocks, which was a mere 926MHz before. Again, that extra oomph isn't free, as the TDP increases from 120W to 150W.
The Radeon RX 560 provides a decent bump over the RX 460's 1,090MHz base/1,200MHz boost speeds, cranking things to 1,175MHz/1,275MHz, respectively. More notably, this is the full-fledged version of the Polaris 11 GPU. Whereas the RX 460 only packed 14 compute units (potentially to keep it under 75W, which is necessary for cards that don't require extra power pins), the RX 560 rocks the full 16. That combined with the clock-speed boosts means the RX 560 could offer decently more performance than the RX 460—albeit at a higher power draw that will likely demand a 6-pin connector. Alas, AMD declined to share more details about this card.
The Radeon RX 550 is a completely new model designed to appeal to e-sports gamers and home theater PC experts looking for more than what integrated graphics alone can provide. It's essentially half of an RX 560 (or a third of an RX 570) with a mere eight compute units clocked at a 1,183MHz boost speed. AMD didn't reveal a base speed. It's got 2GB of memory over a 128-bit bus, though a limited number of models will offer 4GB capacity. It won't need a supplemental power connector, drawing all needed power through your motherboard.