Few years ago a Finish multinational company, "Nokia" who was once listed as the world's largest vendor of mobile phones is now suffering a declining market share due to their lackluster performance in past as well as other fast growing manufacturers who occupied the market limelight with their innovative smartphones and gadgets launches, to fight Nokia is has re-planned their strategies and they are now coming with new phone more frequently. In their quest to regain their position, they have added another smartphone in budget segment as Nokia 210.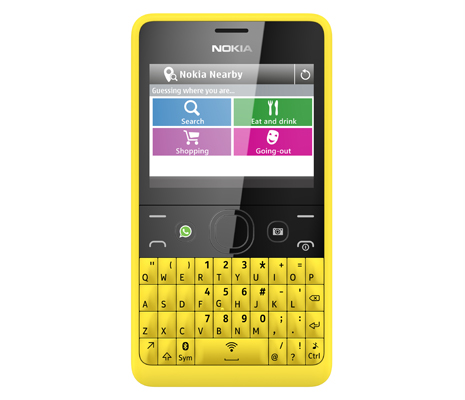 Seeing the market trends, company has launched a new element in it's line of inexpensive phones aimed at emerging markets and introduced, "Nokia Asha 210" as a new predecessor under Asha Series. Nokia Asha series is quite popular among the mid range buyers. Coming to it's Specifications, it sports 2.4inch QVGA LCD Display with 240 x 320 of pixels resolution, 65K colors. In terms of Software Specifications, Nokia Asha 210 runs on Nokia's proprietary operating System. Nokia Asha 210 is the first handset to feature a dedicated WhatsApp button, which gives you quick access to the instant messing app that comes pre-installed. Nokia Asha 210 available in both single-SIM and dual-SIM, the phone boasts of 46 days with Single-SIM and up to 24 days with Dual-SIM. It has a talk-time capacity of 12 hours on 2G. On the upper body, it houses a four-row full QWERTY keyboard for giving input inside the display screen.
In terms of Photography specifications, Nokia Asha 210 is equipped with a primary camera at the back rated at 2 MEGAPIXEL that can be accessed through a dedicated hardkey even when the keypad is locked, no secondary camera. Some of the other features of this smart camera which the company has incorporated in this device is editing and sharing options which is embedded in this device specifically targeting the youth.
"The Nokia Asha 210 really stands out giving super-social consumers new ways to express their personalities through design, colour and innovations like the world's first WhatsApp button," explains Timo Toikkanen, executive vice president, Mobile Phones, Nokia. "It has been designed to allow people to easily update their social networks, stay in touch with friends and share user created content."
Briefing it's Connectivity specifications, this device support Bluetooth, Wifi, micro USB, GPRS with EDGE Connectivity and a pre-installed browser. Shifting the shaft towards it's memory, it is equipped with only 64 MB of Internal memory which can be easily expandable up to 32 GB via microSD card slot.
"We are focused on delivering the best WhatsApp experience to as many people as possible," said Brian Acton, Co-Founder of WhatsApp Inc. "We are very excited about our partnership with Nokia Asha complementing our strategy of giving people around the world an easy experience when keeping in touch with their friends."
To make the life going on for this handset, Nokia Asha 210 is equipped with 1020 mAh of battery which company claims that it will deliver 720 mins of talktime and 608 hours of standby time.
The Nokia Asha 210 is going to be available in yellow, cyan, black, magenta, and white when it goes on sale (sometime in this quarter). Prices are yet to be officially disclosed by the company but it could be expected in rage of Rs. 4000-5000 in India.