Japanese Multinational Photography and Imaging Company,"Fujifilm Holdings Corporation" which is commonly known as Fujifilm has unveiled it's latest product in FinePix S series featuring the all-new "Fujifilm HS30EXR/HS33EXR.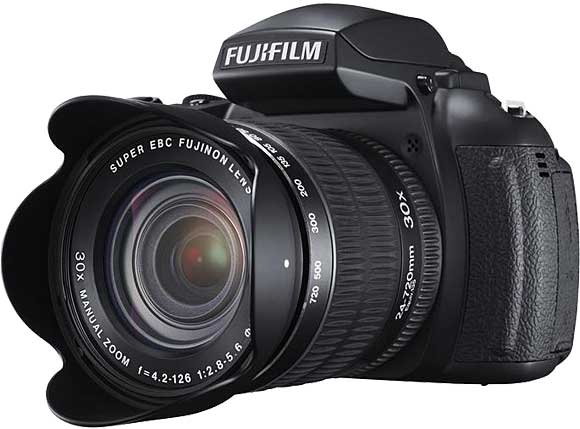 Fujifilm HS30EXR/HS33EXR has High Contrast 3.0-inch large LCD Screen which has SLR-like (bridge) body and with such peachy looks and feels it resembles like DSLR camera. The HS30EXR/HS33EXR features 1/2 inch BSI (Back Side Illuminated) EXR CMOS sensor and re-adjusting the shape of the photo diodes which makes images display 30% less digital noisy at higher ISO settings, making it more versatile to use it in low light conditions. HS30EXR/HS##EXR comes up with an awe-inspiring 16 megapixels of high-resolution image quality,and a Manual(30x) zoom having 24mm to 720mm zoom range, which is much faster and more decisive while shooting still images unlike the power zooms in this series. HS30EXR/HS33EXR has Lithium-ion rechargeable battery which makes 600 shots per charge,it also enables to focus manually during movie recording, and an electronic level gauge. It also comes up in numerous modes such as Programmes AE, Aperture Priority AE, Shutter Priority AE, Manual exposure mode which make video shooting more easier. It also has a RGB color filter array.
HS30EXR/HS33EXR has astonishing videography features with support format MPEG-4H.264 and a microphone with Stereo sound ,with a screen resolutions of 1920 x 1080 (30 fps), 1280 x 720 (30 fps), 640 x 480 (30 fps). As far it's storage is concern it comes with 20MB included and SD/SDHC/SDXC card supports, USB 2.0 (480 Mbit/sec) and HDMI(mini) with Remote control (Optional RR-80) serves as a connectivity options in this device.
The device has been competitively priced at Rs. 26,799 making it an interesting choice.