Out for a quite while from the race of Smartphones, World's most premium manufacturer,"Blackberry" pioneering in manufacturing hand-held devices has launched it's much awaited device featuring it's first BB10 based smartphone,"Blackberry Z10″ in the Indian market.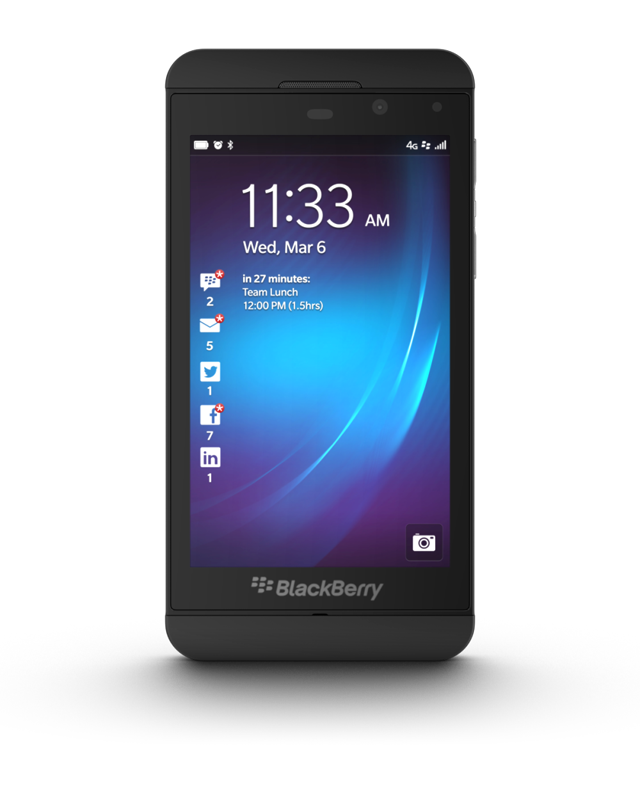 To facilitate the buyer's interest Blackberry Z10 equipped is with powerful integration between hardware and software. Viewing the appearance, Blackberry Z10 sports a 4.2-inch capacitive touchscreen with screen resolution of 768 x 1280 pixels and 356ppi pixel density. However, in terms of dash specs it's quite disappointing as it looks way behind Android-powered competitors like Sony Xperia Z, HTC Butterfly and many more. Speaking towards the Operating System and Software, Blackberry Z10 run on BlackBerry 10 Operating System with BlackBerry® Link software for your computer to enable synchronization of data and media. It is also powered with Dual Core processor clocked at 1.5 GHz. However, we have seen a common feature in most of the android and windows Phones running devices that when you wish to go back to pursue another task irrelevant from the current task you have to press the back button, and here Blackberry mark it's virtue of Smartness as with the newly introduced Operating System you just have to touch the screen bottom from where you can swipe a whole list of task such and operate as per your need as turning on the screen, or going to the home screen.
Dealing with the device multimedia specifications, it houses a 8 MEGAPIXEL of rear camera with auto-focus, LED flash and geo-tagging technology and also supports 2MEGAPIXEL of front-facing camera for video calling. Enumerating it's Storage Specifications, this device supports 2 GB of RAM with 16GB Flash memory with a removable microSD memory card – slot under battery door (Up to 32 GB), and a USB 2.0 high speed port – allows charging and data synchronization of the device with a USB cable, Micro HDMI for connection to your HDTV or projector.
"Without a doubt the BlackBerry Z10 is among the most important and much awaited BlackBerry launches in the history of the Indian smartphone industry, and we are thrilled to launch the new BlackBerry Z10 smartphone with our carrier and retail partners across India. With BlackBerry 10, we have re-designed, re-engineered and re-invented BlackBerry to create a new and unique mobile computing experience, and we are uniquely positioned to change the way in which our customers view mobile technology. With BlackBerry 10, every feature, every gesture, and every detail is designed to keep you moving," said Mr. Sunil Dutt, Managing Director for India at BlackBerry.
In terms of Connectivity, Blackberry 10 supports WiFi ( 802.11 a/b/g/n at 2.4 GHz / 5 GHz, 4G Mobile Hotspot), Bluetooth(Bluetooth 4.0 Low Energy LE), GPS (Autonomous and Simultaneous GPS preloaded with BlackBerry Maps application GLONASS Support), NFC (enables communication between BlackBerry smartphones and other NFC-enabled devices with a tap). It resides a bunch of Network Support (2G,3G,4G). To Power it up, it dubbed with 1800 mAh of battery with the talktime and standby time unknown.
Under the box, some of the cool Z10 features by BlackBerry are Story Maker, Remember, Balance, Hub and voice control while the other applications are BlackBerry Hub, Contacts, BlackBerry Browser & Calendar, BBM, Text Messages, BlackBerry World, Docs To Go, Pictures, Music, Videos, Story Maker, Facebook, Twitter, LinkedIn, Foursquare,Maps, Games, YouTube, Voice Control, Weather, Clock, Calculator, Compass, File Manager, Box, BlackBerry Connect for Dropbox, Print To Go, Smart Tags, Settings, Adobe Reader, Phone, Camera/Video Camera/Time Shift, Setup, Help, SIM Toolkit, Search and many more.
The price of Blackberry Z10 is quite hefty at Rs 43,490 and it will be soon rolled out for sale at all the leading online retailers across the country. With such high specifications, it will compete with Apple's iPhone and those based on Google's Android operating system, which have gained popularity across the world.
Stay tuned for more technology updates.