One of the worlds leading hardware and electronic giant company Asus launched it's new PadFone without much fanfare. The PadFone is a device between tablet and smartphone and it provides an incredible  battery life along with usability of a tablet.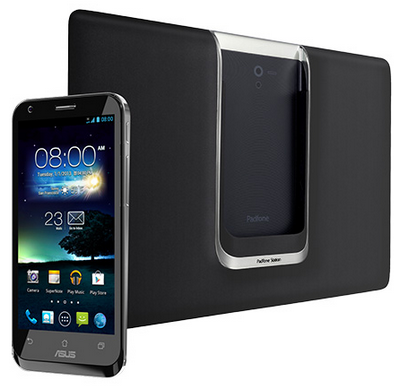 The PadFone itself is sleek and with a nice overall built. The feel of the textured black at the back, which gives the handset a good grip. This will remove the danger of getting the PadFone slipped out from our palms or pocket. It features  4.7-inch 720p display, this  PadFone is among the first devices to employ Sharp's IGZO technology and the result are really impressive. Asus takes the lead in employing a quad-core Snapdragon S4 chip, giving it far more processing power and the ability to shoot 13-megapixel photographs at 6fps for 100 consecutive shots. Volume controls are placed on the right-hand side, while a 3.5mm headphone jack is located right in the middle at the top, with a switch power button next to it. Micro HDMI and micro-USB ports are located on its left-side, and these are used to connect the handset to the PadFone Station. The rear cover is removable, and, beneath it, you'll find the 1520mAh battery. There is an  IPS LCD panel as well, with good viewing angles of its own. Asus has re-engineered the docking mechanism, with a firm click and vibration will give you tactile feedback when you will get the PadFone 2 properly jacked in.
Padfone 2 tablet station sold separately for approximately Rs 20,000 and Padfone 2 smartphone for Rs 31,000 for 16GB model and Rs 37,500 for 32 GB model. It will be made available for sale in  Chennai/ Delhi/ Kolkata /Mumbai currently and later it will be rolled out to other cities as well.